Reporting Value Creation and Sustainability for SME-MOOC
The Massive Online Open Course by the Erasmus Plus project INTEGRES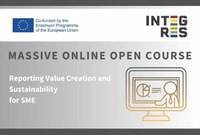 The INTEGRES- Integrated Reporting and Education for Sustainability   Project is co-funded by the Erasmus + Programme of the European Union to develop educational material about Integrated Reporting (IR) and disclosure of non-financial information for SMEs.
 'Reporting Value Creation and Sustainability for SME' MOOC is the Massive Online Open Course realized by the five European Universities grouped in the INTEGRES Erasmus+ Project: Alma Mater Studiorum-Università di Bologna, Department of Management - DISA and Department of Sociology and Business Law; Stichting Avans; Université Catholique de Lille; Technological University Dublin.
Effectively communicating value creation and sustainability is essential for SMEs' long-term success. This MOOC presents several aspects of value creation and sustainability reporting from an SME's perspective. It is designed to help students, consultants, managers, and entrepreneurs understand the value of reporting non-financial information related to social and environmental aspects.
The MOOC is a 5-week course (plus a Week 0 with a course introduction), addressed to students, researchers, entrepreneurs, managers, accountants, and other practitioners:
Week 1 – Sustainability and sustainable development
Week 2 – Integrated reporting and value creation
Week 3 – Integrated reporting: a case approach
Week 4 – Key Performance Indicators (KPIs) in integrated reporting
Week 5 – Human capital reporting as a route to value creation
Learn more and participate: The MOOC is available on the UNIBOOK platform of the University of Bologna.
VIDEO PRESENTATION: Reporting Value Creation and Sustainability for SME - Massive Online Open Course.