Biblioteca "Walter Bigiavi"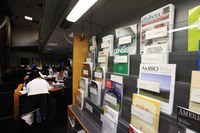 The "Giuseppe Testoni" Library of the Department of Management has been merged with the Library of economic-business disciplines "Walter Bigiavi" promoted by the Department of Management, the Department of Economics, and the Library of Economic Disciplines "W. Bigiavi".
The headquarters is that of the "Walter Bigiavi" Library, in via delle Belle Arti 33.
To learn more about the organization and activities of the library and access the services, visit the website.