The Department headquarters in Forlì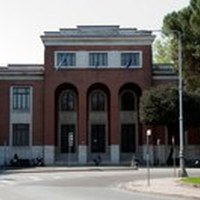 The Forlì headquarters of the Department of Management is situated in Piazzale della Vittoria 15.
The Forlì campus boasts a consolidated and significant national and international experience in university and post-graduate teaching and research, particularly in the field of business systems, public administrations, accountancy as well as the field of cooperatives and non-profit organisations.
The strengths of the many activities carried out at Forlì particularly concern a learning approach that has always been "tailored to the students", supported by a range of teaching methods; from the launch of an e-learning platform supporting the course units to an efficient tutoring service available to university students, as well as post-graduate careers guidance; from direct relations with the teaching staff to the availability of a wide range of modern facilities and services at the disposal of the students. Over the years, the campus has aimed, and continues to aim, to achieve two specific objectives:
recognition and enhancement of the "central role" of students, who are particularly active and involved in the decision-making processes in place in the ex-Faculty bodies;
identification of learning outcomes that refer to and are coherent with the competences deemed necessary by various local stakeholders, in order to be able to work in the economic system with a specific focus on internationalisation and accountability.
The Department headquarters in Forlì
DISA Forlì
Piazzale della Vittoria 15 - Forlì
Contacts
Department headquarters in Forlì

Piazzale della Vittoria,15 - Forlì