Yunus Social Business Centre Conference in Sustainable and Socially Responsible Finance
November 2nd – 3rd – 4th 2023
Date: from 02 November 2023 to 04 November 2023

Event location: Alma Mater Studiorum – Università di Bologna, Imola Campus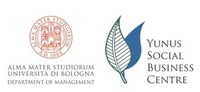 The Yunus Social Business Centre and the Department of Management at the University of Bologna are organizing the second edition of the Sustainable and Socially Responsible Finance Conference that will take place in person on November 2nd – 3rd - 4th. 
The challenge of financing the sustainable transition while ensuring a positive return for shareholders and satisfying the firm stakeholders' expectations is an ongoing topic of debate.
The Conference aims to bring together leading academics, practitioners, and policymakers and provide the opportunity to present state-of-the-art research on the most significant challenges. 
The Conference will be held in presence at the Alma Mater Studiorum-Università di Bologna, Imola Campus. 
Interested authors should submit a preliminary version of their paper or extended abstract by June 20th, 2023.
Learn more about the conference, the call for submissions, and participation modalities: Conference website