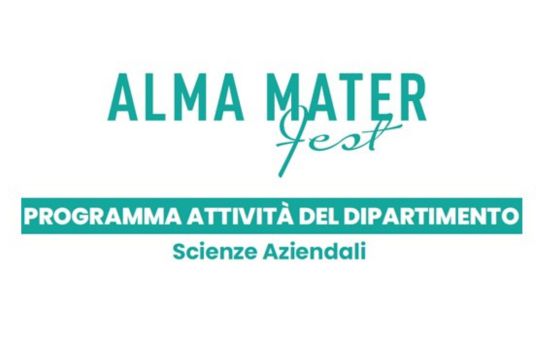 Alma Mater Fest - The University of Bologna welcomes its student community
Learn about the Department of Management activities
Published: 19 September 2023 | Incontri e iniziative
From September 27 to October 2, we look forward to seeing you in Bologna, Cesena, Forlì, Ravenna, and Rimini for a 4th special edition with guests, topical talks, and many free activities open to all.
The Department of Management is participating in the initiative:
SEPT. 27, 6 P.M. - HOW (IR)RATIONAL ARE WE?
On a daily basis, we make decisions. In doing so, we make systematic mistakes. In this event, the experts in management and economy, through a quiz, will guide us in discovering mistakes that we need to be aware of when governing a business or an institution.
Classroom 3, Scaravilli Square, 1
SEPTEMBER 27, 28, 29, 5:30 p.m. - ME AND MY CAREER: WALKING ON THE HILLS OF BOLOGNA (Limited seats, reservations required on the Alma Mater Fest 2023 website )
Three meetings, a (per)course to imagine and plan one's future career with tools and exercises based on personal and group reflection and experimentation.
First meeting 'Me and self-discovery'. Meeting: parking lot of Villa Ghigi, 2
Second meeting 'Me and possible career alternatives'. Meeting place: entrance of Remo Scoto Garden, Via Codivilla, 5
Third Meeting 'Me and my experimentations'. Meeting: Meloncello Garden, Via del Meloncello, 1
2023 Friday, September 29 - 11:30 a.m. to 12:30 p.m. - Doing sustainable business: how to educate new generations - Conference
Room 14 - Teaching Hub - Forli Campus.

Download the attached program and visit the official event website for all information: Alma Mater Fest 2023