ENTREPRENEURIAL SUPPORT INITIATIVES: THE ISSUE OF DIVERSE MIGRANT ENTREPRENEURS
A recent research carried out by the Erasmus+ MIG.EN.CUBE project
Published: 26 April 2023 | Innovazione e ricerca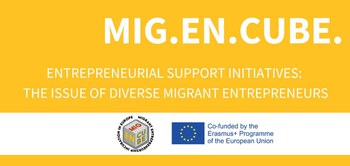 Migrant entrepreneurs actively engage in start-up development and self-employment, either as a way to exploit business opportunities or as an alternative to paid jobs. Many multi-level policies focus on migrant entrepreneurs, as they face additional barriers derived from being foreigners and "outsiders" with respect to the business environment. These barriers can impede migrant entrepreneurs from fully exploiting their potential and contributing positively to the host countries' economies.
How are European entrepreneurial ecosystems acting towards the opportunities provided by migrant entrepreneurship?
The recent research carried out by the partners of the Erasmus+ MIG.EN.CUBE project has focused on the characteristics and services of entrepreneurial support programs currently offered in three European countries: France, Italy, and The Netherlands, which introduced different policies to sustain entrepreneurship and migrant entrepreneurship, particularly in high-tech sectors, and improve socio-economic inclusion. 
Mainstreaming or separating?
The research highlighted the existence of "migrant-specific" entrepreneurial support initiatives, which are specifically designed for migrants, and "generalist" entrepreneurial support programs, which welcome in their programs both local residents as well as entrepreneurs coming from abroad.
Migrant-specific entrepreneurial support initiatives, in general have the mission of empowering migrants by offering them the tools, knowledge, and competencies to transform their ideas into business opportunities. Accordingly, their activities mostly regard the provision of training, aiming at the development of entrepreneurial competencies from a perspective of personal growth.
On the other hand, generalist entrepreneurial support organizations are more likely to provide services connected to business acceleration – such as the provision of support to reach clients and final markets, searching for staff, and achieving funding or investments. These organizations are more likely to provide incubation spaces and adopt customized methodologies, such as mentorship or pairing with experts and consultants.
Dealing with "super-diverse" migrants
Besides the heterogeneity in the generalist or specialist entrepreneurial support to migrant entrepreneurs, there are two additional sources of complexity in identifying "who is supporting who" at the level of entrepreneurial support initiatives: one deriving from the different typologies of migrants looking for support services; and one deriving from the stage of development and nature of the business idea. Different groups of migrants with different needs and experiences can be involved in entrepreneurship support initiatives.
| | |
| --- | --- |
| Students/researchers | Highly skilled in a variety of scientific backgrounds, accustomed to the host country's culture, in need of business and entrepreneurship education and technical support to network with the domestic entrepreneurial ecosystem. |
| Start-up visa holders | Rich in entrepreneurial and technical knowledge; lacking networks and knowledge of the local cultural and institutional settings and financial opportunities. |
| Refugees and asylum seekers | Variety of human capital profiles, potentially exposed to traumatic migration, might require language, psychological, and basic needs support in addition to entrepreneurship and business support. |
| Newly arrived migrants | Variety of legal status and human capital profiles; lacking cultural, linguistic, and institutional knowledge about the country of destination. |
| Long-term sojourners | Having potentially acquired citizenship or being second-generation, maintaining different links to the home country, in need of business and technical support. |
The co-existence of these different groups is mirrored by the wide variety of services offered in the three countries. However, there are significant hurdles to be managed:
In the Netherlands, the difficulty in developing a more coordinated support system to help migrant entrepreneurs face legal and regulatory barriers imposed by local and national institutions.
In France, some veiled prejudices in the business environment (i.e., some generalist incubators do not actively scout for migrant entrepreneurs because they are not perceived as innovative).
In Italy, the majority of migrant-specific entrepreneurial support organizations have mixed public-private funding, which stimulates early-stage business development services, stimulating entrepreneurial competencies rather than a business start-up.
Recommendations for policy-makers and entrepreneurial support organizations' managers
Devote efforts to develop an integrated EU-level infrastructure of entrepreneurial support and incubation/acceleration services able to serve the much-diversified group of migrant entrepreneurs, to aid the single European countries exploiting the potential of migrant entrepreneurship, especially in a context of unstable economic and social conditions.
Move beyond a welfarist approach to migrant entrepreneurship support initiatives by devoting efforts to decreasing barriers for migrants to access mainstream entrepreneurship support programs and removing restrictions on access to innovative sources of funding and finance.
Encourage and facilitate partnerships between entrepreneurial support organizations and other actors of the entrepreneurial ecosystem and providers of migrant integration services.
Develop awareness and action plans towards inclusive entrepreneurial support, spanning organizational arrangements, the definition of support methods and contents, communication, participants' selection, and assessment criteria.
MIG.EN.CUBE project has been funded with support from the European Commission. This publication reflects the views only of the author, and the Commission cannot be held responsible for any use which may be made of the information contained therein.