Open Day - Master's Degree Programs - Forli Campus
May 11th, 2023, 9 a.m. - 2 p.m.
Published: 05 May 2023 | Incontri e iniziative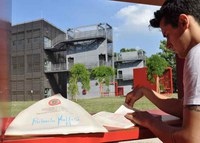 Open Day - Master's Degrees
MAY 11, 2023, from 9 a.m. to 2 p.m.
The event is the occasion to learn all details about the courses of study, the methods of access, the educational objectives, and the professional opportunities of the courses. the courses' faculty and students will answer questions from participants.
It is possible to attend in presence ( Classroom 4 and Classroom 3, Piazzale della Vittoria 15, Forlì) or online (on Microsoft Teams).
Registration required
Program 
9:00 a.m. Economics and Management (Classroom 4 ) - in Italian
10:00 a.m. Business Administration and Sustainability, curricula "Business and Administration," "Sustainable Food System Management" (in English)
11:00 a.m. Social Economy Management - in Italian
12:00 noon Business Administration and Economics (Classroom 3) - in Italian
13:00 Digital Transformation Management (in English)
Full details for in-person and online participation and registration form: at this page