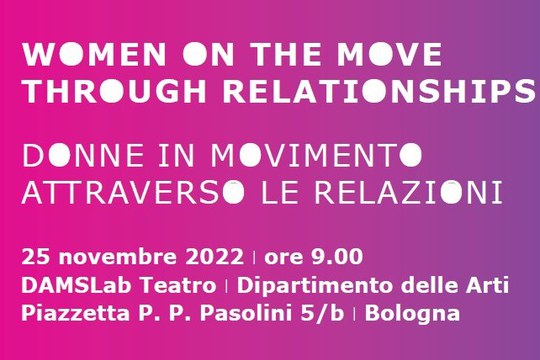 Women on the Move through relationships #Donne in movimento attraverso le relazioni
International day for the elimination of violence against women.
Published: 15 November 2022 | Incontri e iniziative
The event is organized by the University of Bologna and hosted by DAMSLab, Department of Arts, in Piazzetta Pier Paolo Pasolini 5/b, Bologna, and will be held on 25 November 2022 at 9.00.
The aim is to stimulate reflection on violence against women, investigating the roots, representations, and implications of this phenomenon, according to an interdisciplinary perspective from which an innovative and productive dialogue between different knowledge can emerge.
Key note speech by Paola Dazzan, Professor of Neurobiology of Psychosis, IoPPN Vice Dean, King's College London.
Five thematic sessions will follow, with interventions by experts, readings of passages by Arte In pArte, and the viewing of two feature films in collaboration with the Terra Viva Film Festival.
Free admission.