Coopetition and innovation: A review and research agenda
Published in: Technovation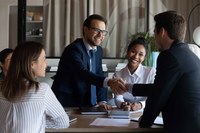 Innovation is a key source of competitive advantage in a world characterized by short product lifecycles and rapidly changing consumer demands.
Yet, many firms either lack sufficient resources or do not have the internal capabilities required to successfully innovate. To compensate for this shortcoming, they often opt to source the knowledge needed to innovate from outside of the firm, through inter-organizational agreements and partnerships.
These collaborations, which often occur between competitors, have become known as "coopetition".
Examples of coopetitive relationships abound. For instance, in the LCD TV collaboration between Sony and Samsung, Sony contributed its brand recognition in the television domain and its technological know-how, while Samsung contributed with its know-how in LCD technology. In the higher education industry, two traditionally competing universities - Harvard and MIT - joined forces to build and launch one of the first virtual learning initiatives through a platform that would grant online access to their courses seamlessly.
The relevance of coopetition and innovation is reflected in the proliferation of research on this topic, especially in recent years. Between 2000 and 2020, 128 publications were produced; 70% appeared in the last five years. By bridging the two research fields of coopetition and innovation, our literature review provides a unified understanding of 20 years' worth of knowledge in coopetition and innovation by systematically reviewing how coopetition and innovation relate to and integrate with each other.
We analyzed 128 articles published in academic journals between 2000 and 2020 using Multiple Correspondence Analysis (MCA), an explorative and quantitative technique for analyzing qualitative data. This approach allowed us to map the intellectual structure of coopetition and innovation, revealing the major research themes, the theories and methods used, the levels of analysis, and the contexts explored.
The findings reveal that the main theoretical approaches used in studying coopetition and innovation are the resource-based and knowledge-based, network, and behavioral views.
The main research themes instead were strategy (e.g. coopetition as a strategy), innovativeness (e.g., incremental versus radical innovation); value creation, appropriation, and performance (e.g., (analyzing the performance of innovation-related coopetitive partnerships); appropriability and protection (e.g., appropriability regimes), and organizational culture.
All in all, innovation-related coopetition was beneficial for the firms involved in these activities as long as the partner is a strategic fit and can share and source knowledge.
This study could help researchers further analyze the intersection between coopetition and innovation by looking at one or more of the following aspects. First, promising developments in innovation research that could inform future research on innovation and coopetition are – among others – green and sustainable innovation or the development of new technologies (such as artificial intelligence and machine learning).
Another fruitful avenue for future research would be exploring how adopting open innovation practices enables or hinders the benefits of coopetition.
The role of governance mechanisms and their influence on innovation and coopetition, and how competing and divergent interests are managed by governance mechanisms represent another area of development.
Finally, More studies could be conducted to investigate coopetition in an "entrepreneurial space", using contexts in which coopetitive dynamics take place, such as co-working spaces or start-up/corporate incubators and accelerators.
Authors at the Department of Management
Leonardo Corbo – Associate Professor of Management
Academic disciplines: Strategy, networks, and entrepreneurship
Teaching areas: Strategy and Entrepreneurship
Research fields:  Strategy and Entrepreneurship 
Leonardo Corbo is an Associate Professor of Management in the Department of Management at the University of Bologna. Before joining the University of Bologna, he worked at Católica Porto Business School and LUISS University. He has been a Visiting Scholar at Stanford University, Kellogg School of Management, and Sauder School of Business. His research interests include alliances and networks, business model innovation, and start-ups.