Formal organizations and interstitial spaces: Catalysts, complexity, and the initiation of cross-field collaboration
Published in: Strategic Organization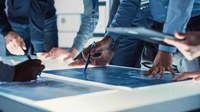 University-industry collaborations are emerging as a critical component of innovation processes.
At the European level, they have been acknowledged as key drivers for entrepreneurship, creativity, and innovation. Since innovation often results from the interaction and cooperative efforts of different types of organizations, university-industry collaborations are a key conduit for innovation-related knowledge flows both for firms and universities, as well as society as a whole. This has led universities and firms to change their strategies and policies accordingly.
However, the more potential for innovation that exists in collaboration, the more difficult the collaboration is likely to be.
The same differences in organizational fields that create potentially ground-breaking outcomes create also barriers to collaboration in the form of different approaches (i.e., research- vs commercial-based logic) and focus (long- vs short-term orientation) that have to be combined.
Therefore how can we reduce the barriers and conflict inherent in university-business collaborations to maximize their effectiveness and innovativeness?
To find out, we interviewed 53 technology transfer professionals working in organizations dealing with technology transfer activities (i.e., Technology Transfer Offices at universities, University Incubators, and University-Industry Research Centers).
We consider the "interstitial spaces" – intended as spaces where individuals positioned in different fields interact with one another informally around issues and activities of common interest – that these organizations purposefully and formally create to foster university-industry collaborations. More specifically, we explore the role that people working within these spaces may have in facilitating collaboration establishment and effectiveness. We refer to these people as "catalysts". 
Our analyses made possible the construction of a multi-level model, where we show some specific characteristics that catalysts should have, as well as the activities they should carry out, in order to reduce university-industry collaborations challenges and make them more successful. In terms of personal characteristics, we found that catalysts have to:
occupy a key position in the organization
have decision-making power and great autonomy.
In terms of the activities, instead, we found that the most important activities that catalysts should perform to manage partners' diversity in collaborations are the following ones:
looking for the right partner for interaction
timing and sequencing of interaction
designing interaction rules
sustaining interaction financially
re-orient parties' interaction and sanction inappropriate behavior.
The actions undertaken by catalysts represent an important facilitator for getting more effective interactions between academics and practitioners but do not represent the whole set of activities supporting this kind of collaboration. Indeed, if catalysts' activities operate at the individual level—at the level of micro-interactions between collaborating partners—there are other actions undertaken by technology transfer organizations that complement what is done by catalysts, but at the organizational and field levels.
We show that guaranteeing specialized support for interaction represents an organizational-level activity that, together with sponsoring existing interactions and multiplying occasions that might generate future interactions at the field level, integrates the set of supporting mechanisms implemented for the effective functioning of interstitial spaces.
There is much to learn from these insights, not only for technology transfer organizations managing university-industry collaborations but also for academic researchers and firms that want to establish a collaboration with the other part. If technology transfer organizations want to make university-business collaborations effective and successful, they need to look for people (catalysts) with specific characteristics and make them implement specific activities. At the same time, academics and firms should be aware of the role played by technology transfer organizations and catalysts.
The critical need to develop innovative solutions to complex multiparty problems like climate change, water security, global health provision, and the like makes understanding how interstitial spaces work increasingly important.
Authors at the Department of Management
Elisa Villani – Associate Professor
Academic disciplines: Innovation management; Knowledge transfer; Organizational behavior; Entrepreneurship.
Teaching areas: Organizational behavior.
Research fields: knowledge transfer, innovation dynamics, university-industry collaboration, organizational behavior, entrepreneurial processes.
Elisa Villani is an Associate Professor of Entrepreneurship and Innovation at the University of Bologna. She is the coordinator of KTSoftSkills - Soft Skills for Knowledge Transfer, the Erasmus+ project on soft skills for knowledge transfer, co-founded by the European Union. Elisa has published in top management journals like the Journal of Management, Journal of Management Studies, Technological Forecasting & Social Change, Journal of Business Research, and Journal of Technology Transfer.