Imagining the newcomer–supervisor relationship: Future relational self in the workplace
Published in the Human Resource Management Journal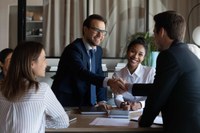 Manage or being managed? It largely depends on you.
Any employee faces a dilemma at any stage of their career: adhere to the leadership and management styles of their boss or deviate from them in order to express their own authenticity at work and bring personal unique value in the context. Balancing the two is easier said than done.
This dilemma is particularly relevant when one joins a new company. That is when new expectations have to be set, relations to be built, and goals to be achieved.
In this context, organizational literature has discovered that the most effective people are those who develop a clear "future work self" that includes meaningful hopes and aspirations in relation to the work. It encompasses answers to relevant questions, such as "what I might become", "what I would like to achieve", or "what I am afraid of becoming".
Previous studies have demonstrated that this self-representation is a powerful link between motivation and behaviors, working as incentives for future performances.
At the same time, it might transcend meaningful relationships that one is called to build when joining a new organization, and it might not take into account concrete obstacles that one might face in performing the new role, adjusting to emerging relationships, and ultimately evaluating the choice that has been made when joining the company.
To fill these gaps, we introduce the concept of the "future relational self" in the managerial literature. It materializes the future work self in relation to one's boss, who largely represents the organization to the newcomer's eyes and symbolizes a powerful reference for evaluating personal actions.
Beyond clarifying its theoretical coherence and testing its psychometric properties, we applied this concept in its natural setting: the world of managerial practice. Hence, we followed the onboarding process of 215 newcomers (50.7% women) for three months and collected their opinions in three distinct waves.
We found strong evidence that a clear future relational self (FRS) supports individuals to 1) build meaningful relations with their supervisor, and 2) effectively integrate them in the new working environment, with positive effects on the role to be performed and the relationship with peers, too.
In addition, we enlighten that a specific dimension of FRS plays a key role in explaining the performance detailed above, namely Attribution of Control. It reflects the individual belief about the feasibility of the desired aspiration and the degree to which it is under personal control.
An individual with a high attribution of control believes that the attainment of FRS is plausible and mostly depends upon personal decisions and actions. An individual with a low attribution of control thinks that the attainment of FRS is a difficult process and primarily depends upon the actions and behaviors undertaken by the boss. A high attribution of control may lead individuals to become more persistent in their future self-attainment as perceiving to be in control over a given situation may instill greater motivation, energy, and determination.
This research has relevant implications, in particular for three specific organizational stakeholders: the HR function, supervisors, and newcomers.
HRs might enrich the onboarding process with exercises and sessions focused on nurturing the future relational self both as a facilitator of the integration in the company and as a trigger for in-role performance.
Supervisors should acknowledge that newcomers may think in advance about how to build their relationship with themselves and that newcomers' emerging behaviors might be rooted in sound values and aspirations that could enrich organizational culture and diversity.
Newcomers should be encouraged to develop a sense of control over their possible selves to make them happen.
The philosopher Jean Paul Sartre used to say that "We are our choices." Overall, our study affirms the powerful impact of this claim.
Published in the Human Resource Management Journal: read the full article
Authors at the Department of Management
Academic disciplines: Organization and Human Resource Management
Teaching areas: Business organization
Research fields: Leadership, work-life interface, newcomers
Gabriele studies leadership and its interconnections with work and nonwork domains, as well as with information and communication technologies. He is the Director of the Bachelor in Business Administration of the University of Bologna and Associate Dean at Bologna Business School.
Academic disciplines: Organization and Human Resource Management
Teaching areas: Leadership, People management, Business organization
Research fields: work-life balance, diversity management, job crafting, newcomers
Marcello is the Director of the Global MBA of Bologna Business School. His research interests include the examination of individual and organizational factors that can help employees achieve work-life balance and the analysis of challenges faced by employees with diverse backgrounds.
Academic disciplines: Organization and Human Resource Management
Teaching areas: Organizational behavior, Managing digital transformation
Research fields: Creativity, creative industries, identity, and identification
Massimo is the Dean of the Bologna Business School. He is also currently a member of the Board of Directors of Ferrarelle spa and SNAM, as well as of the Board of Trustees of EFMD | European Foundation for Management Development.
Video Research Contributions - Department of Management - Imagining the newcomer–supervisor relationship: Future relational self in the workplace.