The paradox of accounting for cultural heritage: a longitudinal study on the financial reporting of heritage assets of major Australian public cultural institutions (1992–2019)
Published in Accounting, Auditing and Accountability Journal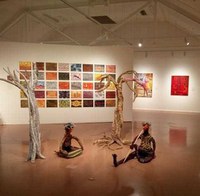 The proposal of valuing heritage items for recognition as heritage assets in statements of financial position of public, not-for-profit museums is firmly on the agenda of accounting standard setters. For standard setters, the valuation would improve comparability in financial reporting and enhance accountability.
To assess whether this proposal is sensible, we looked at a Country, Australia, which, together with New Zealand, is the first movers in the valuation of heritage items.
Since the 1990s, Australian accounting standard setters have required – implicitly or explicitly – the recognition of heritage objects as assets in the statements of the financial position of cultural institutions.
In the paper, we focus on 16 major Australian public cultural institutions providing over-arching evidence of financial reporting practices over 28 years from 1992 to 2019.
We frame accounting for cultural heritage as an intrinsically paradoxical practice as it involves a conflict of two opposite ways of attributing value: traditional accounting and heritage professionals (or curatorial) approaches. The former aspire to attribute financial values to collections, whereas heritage experts are concerned with the non-financial cultural, heritage, and scientific values of the collections to communities and societies. In analysing the annual reports and other documentary sources through qualitative content analysis, the study explores how different actors responded to the conceptual and technical contradictions posed by the monetary valuation of heritage assets.
The study shows that apart from initial opposition by a few museums, most of the efforts of Australian cultural organisations have been directed towards keeping the logic of cultural and accounting valuations separate. This means that although valuations are performed, no mention of the newly developed accounting figures can be observed in the annual reviews, where the organisations' yearly results and performance indicators are presented. In other words, what is required to be done in accounting terms is not seen as worthy of mention in reporting on the operations and attainments of these public institutions.
At the same time, the study illustrates the auditors' tolerance for sudden changes and inconsistencies in accounting practices (depreciation policies, inclusion or exclusion of heritage items from valuation). The study's results portray a roller-coaster journey for monetary heritage valuation, with variations in valuations emerging across time and producing adverse effects on comparability. In colloquial terms, these findings are not considered "a good look" for regulated financial reporting.
Lastly, the study shows that following turbulences relating to write-offs and rise in insurance costs, the Council of Australasian Museums directors released a framework for the valuation of collections aimed at establishing consistency of financial reporting across the Australian Museum sector. Interestingly, the 2018 framework does not challenge monetary heritage valuation. Moreover, it does not address any positive implications of valuing the collections for asserted accountability purposes in line with organisational missions/visions of these institutions and their governance requirements in enabling legislation.
In conclusion, the (expensive) practice of monetary valuation of collections runs counter to the notion of appropriate accountability and has the potential to undermine trust in the accounting profession due to misreporting and/or misrepresentation of the monetary values of artefacts.
One may ask: 'Is this what accounting should do?' or perhaps 'Is this what accounting should not do?'
Authors at the Department of Management
Academic disciplines: Accounting
Teaching areas: Accounting, Arts Management
Research fields:  Arts Management, Accounting History
Paolo Ferri is an associate professor in accounting and director of the Graduate degree in Innovation and organization of culture and the arts (GIOCA). Before becoming an Associate professor, Paolo Ferri worked as Assistant professor at the Alma Mater (2016-2019), a lecturer in Accounting at RMIT University in Melbourne (2015-2016), post-doctoral fellow at Stockholm Business School (2013-2015).