SE 4Ces - Social Economy 4Ces: Joining Social Economy Forces towards Community development, Connected societies, Cocreation of knowledge and Collaborative education practices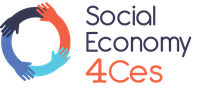 Social Economy 4Ces: Joining Social Economy Forces towards Community development, Connected societies, Cocreation of knowledge and Collaborative education practices – SE 4Ces
Erasmus Plus Programme KA2 Knowledge Alliance
Funding Agency: Co-funded by the European Union
"SE4Ces" is a Knowledge Alliance seeking to create an enabling environment for the Social Economy to thrive by promoting closer partnerships between Higher Education Institutions active in Social Economy, Social Economy organisations and enterprises, as well as community stakeholders.
The project seeks to:
1)           Provide an overview of the current Social Economy education landscape and analyse the needs in training and skills in SE organisations
2)           Pilot Social Economy Living Labs in 4 EU countries – spaces for interaction, collaboration and knowledge co-creation connecting HEIs, students, organisations and communities
3)           Bridge the gap in supply and demand of SE education and skills by building up an international Masters programme on Social Economy and Community Development Strategies.
Educational material developed in the project will be freely available online on an open source platform.
SE4Ces moves beyond traditional models of teaching and learning in the field of Social Economy and introduces service learning, co-teaching, and co-creation of knowledge as interactive and community-centered educational approaches at the heart of the overall philosophy and principles of Social Economy. Such approaches aim to improve collaboration, employability, and citizen engagement but, most importantly, act as a catalyst for Social Economy and its potential for European societies and beyond.
Lasting 36 months, SE4Ces Knowledge Alliance brings together 9 partners;  the project counts a further 20 associated partners, including 9 HEIs and 11 Social Economy organisations that have expressed their interest in upgrading their programs and training materials with SE4Ces innovative approaches and educational resources and ultimately support the establishment and expansion of the first European Community of Practice in Social Economy.
SE4Ces Knowledge Alliance will be seeking more interested parties to sign a Memorandum of Understanding, committing to implement the International Masters program.
The Department of Management of the University of Bologna is a key partner in the SE4Ces consortium and will participate significantly thanks to its expertise in the field of training and research on the social economy.
UNIBO, in fact, is one of the major national trainers on the issues of social entrepreneurs and offers the Second Cycle  Degree in Management for Social Economy, the Master Muec in Economics of Cooperation, and the Advanced Training Course in Management, strategy and impact finance; moreover, UNIBO hosts the Yunus Social Business Center, a center specialized in research on Social Business to address the greatest challenges of our society.
Coordinator: Aristotle University of Thessaloniki - Greece
Partners:  
Associazione Italiana per la promozione della Cultura della Cooperazione e del Non-Profit (A.I.C.CO.N) - Italy
Stimmuli for Social Change  - Greece
Anaptyxiaki Karditsas Anaptyxiaki Anonimi Etairia O.T.A.  – Greece
University of Bristol – United Kingdom
Federation Europeenne de Finances et Banques Ethiques et Alternatives – Belgium
Cooperatives Europe asbl  - Belgium
Universitat Autonoma de Barcelona  - Spain
 DiSA Team: Proff. Federica Bandini, Giuseppe Torluccio, Dr. Elena Barison
Duration: 36 months – from 01/01/2021 to 31/12/2023 
Sustainable Development Goals (SDGs):
Goal 8: Decent Work and Economic Growth 
Goal 10: Reduced Inequalities
Goal 11: Sustainable Cities and Communities
Goal17 Partnerships for the Goals